Nepal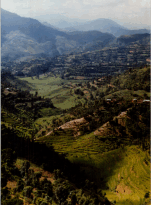 Nepal is one of the poorest countries in the world. Its rapidly growing population face ever increasing challenges. to their survival. Intense demand for land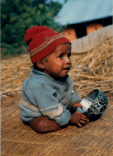 to grow crops is leading to increasing deforestation and catastrophic erosion. The United Mission to Nepal, an international interdenominational Christian Mission, has worked in the country alongside the rapidly growing Nepali church since the 1950's. Among its wide range of projects (from hydro-electric power to dentistry) it has carried out experimental research aimed at encouraging Nepali farmers to plant bamboo on their land. It was hoped that increased numbers of these versatile plants would help to stabilise the hillsides as well as providing a valuable source of building material and fodder.
Liverpool's Anglican Cathedral

This is the largest Anglican Cathedral in Europe and the 5th largest of any denomination in the world. It houses the world's largest Cathedral organ (with almost 10 000 pipes) and the heaviest and highest peal of bells in the world (supported by the world's two largest gothic arches). It took 74 years to build and was completed in 1978.
Photograph Courtesy of Peter Kennerley